Yacht Systems - Our Specialty
Welcome
MARCON - Marine Consulting & Technical Services offers high-quality craftsmanship
Owner George de Neef has been providing high-quality craftsmanship to the yachting community since 1975 and founded MARCON in Southern California in 1987.

We design, install, and repair systems on yachts, with a focus on the systems functioning efficiently together as a whole. We provide services for all sizes of vessels - from small to mega-luxury yachts. Our customers' vessels have been as diverse as fishing boats, wooden tall ship replicas, harbor cruise ships, and luxury yachts.
George recently finished long-term projects in San Diego and Mexico and is now working with vessels in Newport Beach, Dana Point, and San Diego.
Recent News
Welcome to our web site.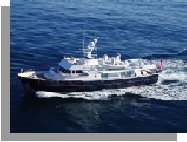 Close to the California coastal communities of San Diego, Oceanside, Dana Point, and Newport Beach, we also serve customers across the United States, Mexico, and Europe.



We are proud to list the historic tall ship replica "Spirit of Dana Point" of the Ocean Institute located in Dana Point as one of our customers.
MarconTech@Cox.net
760-758-4200 Office
760-521-0423 Cell