About Us
Owner George de Neef has been involved with the yachting world since the 1960s when he began competitive racing in South Africa. He has delivered yachts all over the world and has run a charter yacht in the Seychelles.

A native of The Netherlands, George moved to South Africa as a child and has traveled the world. He studied Civil Engineering in Johannesburg and then later moved to The Netherlands. After working for the Dutch shipyards Royal Huismand and Yachtwerf Anne Wever in the late 1970s, he participated in the Whitbread (now the Volvo) 'Round the World race.
George was part of a team that completely retro- fitted a 100' Berger with a Munford interior. George was in charge of design and implementation of the technical systems.

George then teamed with his wife, Elaine, to write a custom operations manual for the vessel after the retro-fit was completed.
George completely rebuilt all major systems on the yacht Mayero, a 65 ft Dufour based in La Paz, greatly improving the yacht's value and without seriously impacting the yacht's charter schedule.
Projects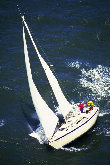 George participated in the Whitbread of 1980/81 as engineer aboard the American vessel Alaska Eagle. George came to the US when he delivered the Alaska Eagle to its current owner, Orange Coast College of Newport Beach, CA.

George has extensive knowledge of yacht systems and prides himself on his quality craftsmanship.



Yacht Systems - Our Specialty
MarconTech@Cox.net
760-758-4200 Office
760-521-0423 Cell
San Diego
Mexico